Top clients
Our trusted
clients
About Us
Transforming

Businesses to Brands
Quarks Systems is a top-notch mobile app development company, software development company, and web development company that has been delivering exceptional digital solutions since its establishment in India in 2013. We started with the idea of revolutionizing digital transformations and bridging the gap between businesses and technology. With a team of 85 professional experts and passionate creators, our company is all about creating wonders for businesses. Services like Web app development, Mobile app development, automation, Cloud solutions, Designing, and many more are our major service-providing segments.
Explore our company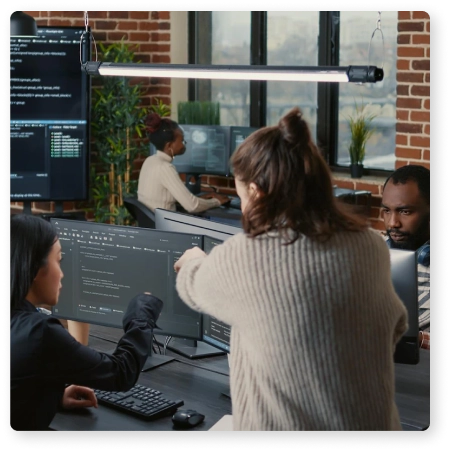 Experts in field
What makes
us special?
Quarks Systems believes in building the right solutions. And with an expert team of 85 professionals who are dedicated to creating empowering and adaptable digital solutions for your business goals, we thrive to achieve the best for our clients. Being an extended partner and trusted team, our name precedes our reputation in successfully delivering 300+ projects, 200+ satisfied clients ,and a perfect team who share our company's ideals. At Quarks Systems we deliver more than the best digital solutions for IT companies, we work beyond the route to help adapt digital sustainability for long-term growth and consistent results.
Our talented team of experts specializes in creating outstanding mobile apps and digital experiences for entrepreneurs, brands, and non-profits both in India and around the world. As a premier web and mobile application development firm, we are dedicated to pushing the boundaries of what is possible and consistently delivering results that exceed expectations.
We Serve
Our
Services
Maximizing Efficiency and Productivity with Custom IT Solutions.
Technologies We Use
Technologies at
your service
Quarks Systems' integrated ideology of comprehensive solutions for digital transformations is achieved with late and scalable technologies. We leave nothing to chance when it comes to providing the best IT solutions for digital platforms. Building an innovative tool that ensures to be cost-effective and prompt in rendering optimized results.
Front-End
RectJS

Angular

Nextjs

Vuejs
Database
MySQL

Oracle

MongoDB

SQL Server
Mobile
Android

Swift

React Native

Flutter
Hire Developer
Hire software Developers for business IT solutions
Hire software developers from Quarks Systems and yield a decade of expertise and vigilant tech professionals to turn your storefront business into a profitable and sustainable digital business. Our team comprises programmers, developers, consultants, designers, writers, and technical experts with immense knowledge of updated technologies. Hire developers from Quarks Systems to comprehend your tools with responsive, user-friendly, productive, and clean designs.
Industries
Best IT solutions for
digital transformations
Our spectrum of digital transformations is wide and broad. Our diverse range of IT solutions is augmentative for every industry that thrives to achieve scalable and quantitative custom digital transformation.
Testimonials
Our
clients

say
I had a great time working with Quarks Systems on my web development project. Their team was so friendly and approachable, which made the whole process a lot less stressful. They were also very knowledgeable and had great ideas for how to improve my website.

Seb Powdrill – Director
Digivo Media Limited
I recently worked with Quarks Systems for my IT needs and I must say, I was thoroughly impressed with their level of expertise and professionalism. Their team went above and beyond to ensure that my project was completed on time and within budget, and they were always available to answer any questions I had. Their attention to detail and dedication to customer satisfaction were truly exceptional.

Sandeep Gajjar
Guni Guru team
Quarks Systems really exceeded my expectations when it came to developing my mobile app. Their team was so easy to work with and really listened to what I wanted. They offered great suggestions and insights that helped me make informed decisions about the development process.

Miriam Rojo
WeeWoo Team
For a Perfect Delivery We chose Quarks Systems, We were 100% right in our decision. We got a software product exactly as we want in our automated system.

Hitesh Patel
Scientist SF – SAC ISRO Ahmedabad
Stay Up to Date with the Latest News and
Updates!
Case Studies
Our
Portfolio
Explore our diverse range of IT solutions that are transforming business and creating opportunities to revolutionize the digital handle. With every client ideally expecting the best for their business we see beyond the horizon yet keep it simple and humble by developing robust solutions that achieve the promised results.